If you're a fan of the iconic Philly cheesesteak sandwich, get ready to fall in love with its pasta counterpart. This mouthwatering Philly Cheesesteak Pasta recipe combines tender strips of beef, sautéed peppers and onions, and gooey melted cheese, all tossed together with pasta for a delightful twist on a classic favorite. Get ready to enjoy the flavors of Philadelphia in every bite. Let's dive into the recipe!
FAQ – Frequently Asked Questions:
Q: Can I use a different type of meat instead of beef sirloin?
A: Absolutely! While beef sirloin is traditionally used in a Philly cheesesteak, you can substitute it with other cuts like ribeye or flank steak. You can also try using chicken or even mushrooms for a vegetarian version.
Q: Can I add other vegetables to the pasta?
A: Of course! While the classic Philly cheesesteak typically includes only onions and bell peppers, you can add other vegetables like mushrooms, cherry tomatoes, or even spinach to the pasta for added flavor and nutritional value.
Q: Can I use a different type of cheese for this recipe?
A: Absolutely! While provolone and mozzarella are popular choices for a gooey, melty texture, you can experiment with other cheeses like cheddar, Swiss, or even blue cheese to give your pasta a unique twist.
Q: Can I make this recipe ahead of time?
A: While this dish is best enjoyed fresh, you can prepare the components in advance. Cook the beef, onions, and peppers ahead of time, and store them in the refrigerator. When ready to serve, reheat the components, cook the pasta, and then combine everything together. This way, you can enjoy a quick and delicious meal.
Q: Can I make this recipe gluten-free?
A:Absolutely! To make this Philly Cheesesteak Pasta gluten-free, use gluten-free pasta and ensure that all other ingredients, such as the beef and cheese, are certified gluten-free as well.
Print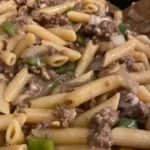 PHILLY CHEESESTEAK PASTA
---
Description
I love how simple this recipe is! Oh, man, I have never had this Philly Cheesesteak Pasta before, and I am so glad that I gave it a try because I never would have tasted perfection! Try this recipe now and I promise you that it is worth all your time and effort. Enjoy!
---
2 tbsp butter
1 medium onion chopped
1 1/4 pounds ground beef
8 oz. white button mushrooms sliced
1/3 pound coarsely chopped provolone cheese
1 (10.5 oz.) can French onion soup
8 oz. penne pasta
2 tbsp Worcestershire sauce
Salt & pepper to taste
1 green pepper chopped
1 tbsp cornstarch
---
Instructions
Place a large pot on the stove and turn the heat to high. Allow the water to boil.
Add the noodles and cook until firm to bite. Drain and set aside.
Place a large skillet on the stove and turn the heat to medium.
Add the ground beef, then cook until crumbly and brown. Remove from the skillet and transfer it onto a clean plate.
In the same skillet, add 2 tbsp of butter and allow it to melt.
Add the mushrooms and cook until soft and golden brown.
Add the peppers and onions, then sauté until soft as well.
Turn the heat down to low, then add the Worcestershire sauce and French onion soup. Stir until well blended.
Add the slurry and stir until well blended. Allow the mixture to become thick.
Put the ground beef back into the skillet as well as the cooked pasta. Toss everything until well combined.
Add the provolone cheese, then cover the skillet and allow the cheese to melt completely.
Add more salt and pepper to season.
Serve and enjoy!
Notes
Calories 613 Total Fat 19g 24% Cholesterol 113.4mg 38% Sodium 896.9mg 39% Total Carbohydrate 57.2g 21% Sugars 8.3g Protein 51.7g 103% Vitamin A18% Vitamin C39%