Sharing with you all a delightful weeknight dinner that brings a touch of excitement to your table – my 20 Minute Honey Garlic Butter Shrimp! This dish is a burst of flavors with its spicy, garlicky, and gingery shrimp, pan-seared to perfection, and then combined with a luscious blend of butter, coconut milk, and sweet honey. It's a Thai-inspired dish with a hint of Italian influence, not your traditional combo, but trust me, it's absolutely DELICIOUS.
To keep things simple, it's all cooked in one skillet, and you'll have this beauty ready in just about 20 minutes! Talk about a perfect option for busy weeknights when you crave something different, quick, healthy-ish, and, of course, mouthwateringly delicious!
And let me tell you, I was in the mood for something fun and vibrant to start this week off right. While life in quarantine has meant exploring pantry-style recipes, which are wonderful and much-needed during these times, sometimes, you just need a burst of fresh colors in your meal.
That's where this amazing shrimp dish comes in. Yes, it's still pantry-style, featuring frozen shrimp and shelf-stable ingredients. But don't let that fool you – it's light, vibrant, and oh-so-fresh. The best part? It's incredibly tasty!
Now, to be honest, there isn't much to report these days since I've been at home for over three weeks now, and my family here in Colorado has been following the same routine. But I'm grateful for all the connections we have through zoom meetings and Instagram, especially the wonderful HBH community. You guys make isolation feel less lonely, and I truly appreciate each one of you.
Soon, I'll be venturing out to restock the groceries, but until then, I'm enjoying this flavorful shrimp dish that adds a little extra excitement to my days. Thank you all for being a part of this journey and making it all the more fulfilling!
Print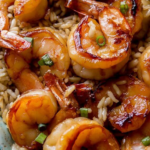 Quick & Healthy Dinner 20 Minute Honey Garlic Shrimp
---
1/3 cup honey
1/4 cup soy sauce (I use reduced sodium)
1 Tablespoon minced garlic
optional: 1 teaspoon minced fresh ginger
1 lb medium uncooked shrimp, peeled & deveined1
2 teaspoons olive oil
optional: chopped green onion for garnish
---
Instructions
Whisk the honey, soy sauce, garlic, and ginger (if using) together in a medium bowl.
Place shrimp in a large zipped-top bag or tupperware. Pour 1/2 of the marinade mixture on top, give it all a shake or stir, then allow shrimp to marinate in the refrigerator for 15 minutes or for up to 8-12 hours. Cover and refrigerate the rest of the marinade for step 3. (Time-saving tip: while the shrimp is marinating, I steamed broccoli and microwaved some quick brown rice.)
Heat olive oil in a skillet over medium-high heat. Place shrimp in the skillet. (Discard used marinade2.) Cook shrimp on one side until pink– about 45 seconds– then flip shrimp over. Pour in remaining marinade and cook it all until shrimp is cooked through, about 1 minute more.
Serve shrimp with cooked marinade sauce and a garnish of green onion. The sauce is excellent on brown rice and steamed veggies on the side.