This is a wonderful recipe that's perfect for any gathering. It's simple, and it's great for if you want to have a casual outing, or a fun family dinner. The beauty of this one is that the ingredients are easy to get, and the marinade is quite simple too.
You can always try other ingredients with this, or if you have a sauce that would work well for this, consider trying that. These are great for snacks too because they come on a convenient teriyaki chicken skewer, so you can munch on this whenever you want it.
The beauty of this too is that this is versatile, and a great recipe for you to have on hand. With the mouth-watering chicken, and even some of the lovely spices and herbs in this marinade, this is a great dish that you can't get enough of. There's very little that you have to change either, so for those of us who are bad a cooking, don't fret, because perfection is right here.
Tips:
What's best to serve with this?
The best thing to serve with this is some wonderful rice, preferably jasmine or white rice, although virtually any rice works. If you want to add noodles as a side, that works too. But keep it small and simple, it doesn't need a lot of side dishes.
Can I add my own sauces and spices?
You can! The cool thing about this recipe is that if you have some ingredients you'd prefer to add to this, it can make this an even better treat for a lot of people, so it's something that a lot of people love to have on hand.
You can adjust and change this recipe as needed, to make it even better, and more amazing for you, and for your family.
Print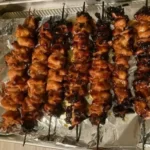 TERIYAKI CHICKEN SKEWERS
---
Description
These Teriyaki Chicken Skewers are so good! A big thanks to my good friend, Selena, for recommending this recipe. Oh, man, you are so in for a treat! Serve these delicious treats over rice, and you have yourself a meal to remember! As perfect as this recipe already is, feel free to add more ingredients if you prefer. I am sure that you can do a lot to make this recipe even better. Enjoy!
---
2 pounds of chicken thighs (or breasts) cut into 1-inch cubes
Teriyaki Sauce/Marinade:
1/2 teaspoon sesame oil
2 cloves garlic, minced
1/2 tablespoon fresh ginger, minced
2 tablespoons cornstarch
1 tablespoon honey
1 c water
1/3 c soy sauce *low sodium recommended
8 skewers
1 tablespoon rice vinegar
1/3 c brown sugar
Optional Topping:
chopped green onion
sesame seed
---
Instructions
Get a bowl to mix this, and then put the cornstarch and the water in there, mixing them so that they're blended.
Heat up a saucepan with medium heat levels, and then put the cornstarch in, along with the other ingredients. Stir all of this until it blends together, and then let this simmer so that the sauce creates a thick texture to it
Take the pan off of the heat and then let this sit down at about room temperature
Put the chicken in a bag, and then add about half the teriyaki sauce, sealing this. Make sure to shake it so that everything's nice and covered.
Put it in the fridge for about 30 minutes, or up to an hour if you want
Pull the bag out, and then thread this directly onto the skewers, then let the grill heat up
Put the chicken onto your grilling plates, letting this cook for anywhere between 20-30 minutes, turning this every few minutes so that no side of this burns.
Take more of the sauce and then brush this over the cooked chicken. Serve!