The 3 ingredient crockpot BBQ wings recipe is a delicious chicken meal, made with just three ingredients, that is chicken wings, BBQ sauce, salt and pepper to taste.
3 ingredient crockpot BBQ wings is a delicious recipe that my family loves. It is one of the super-duper easy meals I cook in no time. The preparation time is stressless and the recipe is just perfect for any season and any events. They are very soft on the inside and saucy on the outside. Just try, and you will fall in love with it. You can serve this recipe with your favorite sauce and enjoy!
Tips and variation:
Do not thaw the wings before cooking! Then unfreeze, cook and soak up flavor all at one time in just 2 or 3 hours!
Add your frozen wings to the Crockpot after rinsing them in a colander.
Cover with the cola. You can also use sprite if you want. The combination of the chicken juices and the cola will help create a tender juicy deliciousness in your BBQ Wings!
The wings are going to create their own juice while cooking so you only want to barely cover with cola. I have tried this a number of times, and it just worked and tastes perfect just like how I want it.
Prep time: 15 minutes
Cook time: 2 hours
Total time: 2 hours 15 minutes
Yield: 6-8 servings
Print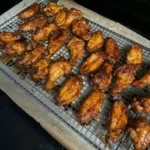 3 Ingredient Crock Pot BBQ Wings
---
3 lbs. uncooked chicken wings, fresh or frozen
1 cup BBQ Sauce, divided
Salt and pepper, to taste
---
Instructions
Step 1:
Begin by preparing the chicken wings and if it is frozen, melt the chicken wings from the refrigerator for at least 4 hours or overnight. Then, seasonthe  uncooked wings with salt and pepper, to taste.
Step 2:
Spray the bottom and sides of your slow cooker with nonstick cooking spray and place chicken wings on the bottom. Then pour in ½ cup of bbq sauce and mix until the chicken is fully coated.
Step 3:
Cover the slow cooker and cook on high for about 2 hours or low for around 4 hours. When the wings get an internal temperature of 165ºF, then it is done.
Step 4:
Remove the chicken wings from the slow cooker and place on a greased baking sheet. Then brush on an additional ½ cup of BBQ sauce to both sides of the chicken wings.
Step 5:
To bake, preheat the oven to 400 degrees Fahrenheit and bake chicken wings for 15-20 minutes and also flip halfway.
Step 6:
Preheat the oven to high broil and broil on high for 2-5 minutes while also flipping halfway.
Step 7:
Preheat the grill to 450 degrees Fahrenheit and grill the chicken wings for around 10-15 minutes and flip halfway.
Step 8:
Set aside and allow to cool for 5 minutes and then serve with your favorite sauces.
Notes
Nutritional facts
Calories: 365 kcl, Sugar: 4 mg, Fat: 25 mg, Carbohydrates: 6 mg,  Fiber: 0 mg,  Protein: 29 mg