Baked sweet and sour chicken recipe is a classic delicious recipe that I love, made with chicken breast, cornstarch, vinegar, soy sauce, and other ingredients.
You won't need to order takeout after trying this baked sweet and sour chicken recipe; it's far healthier and a million times more delicious! This baked sweet and sour chicken is a wonder of a dish, and it's easily the most popular recipe on my blog. It's been a family favorite for over a decade because it's baked rather than fried!
This baked sweet and sour chicken is the most popular recipe on my blog, although it was created on a college budget almost 20 years ago. And, what's more, it's still one of our family's favorites. You've probably seen this recipe all over the internet; it's everywhere! And it's not without reason. It's insanely tasty.
Let me give you a quick summary if you're new to the world of baked sweet and sour chicken. First and first, this meal, while delicious and completely worth it, will need a little more effort than your typical Tuesday night spaghetti. It's not difficult. It's not expensive. It isn't, however, a 30-minute meal. So, with that disclaimer out of the way, here's the 5-seconds rundown.
Prep time:20 minutes
Cook time:1 hour
Total time:1 hour, 20 minutes
Yield: 4 servings
Print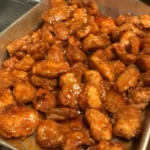 Baked Sweet and Sour Chicken
---
Description
Nutrition Facts
Amount Per Serving:
Calories 497.1 Kcl, Calories from Fat: 139.5 Kcl, Total Fat: 15.5g 24%, Saturated Fat: 2.1g  11%, Trans Fat: 0.3g, Cholesterol: 161.8mg 54%, Sodium: 487.9mg 20%, Total Carbohydrate: 57.2g 19%, Dietary Fiber: 0.5g 2%, Sugars: 41.3g, Protein: 30.7g 61%
---
1 pound boneless, skinless chicken breasts, cut into 1-inch chunks
Kosher salt and freshly ground black pepper, to taste
½ cup cornstarch
2 large eggs, beaten
¼ cup vegetable oil
FOR THE SWEET AND SOUR SAUCE
¾ cup sugar
½ cup apple cider vinegar
¼ cup ketchup
1 tablespoon soy sauce
½ teaspoon garlic powder
---
Instructions
Step 1:
Preheat the oven to 325 degrees Fahrenheit. Then lightly oil a baking dish or coat with nonstick spray.
Step 2:
To make the sauce, whisk together sugar, vinegar, ketchup, soy sauce and garlic powder in a large bowl and leave it aside. Season chicken with salt and pepper to taste in a large bowl.
Step 3:
Stir in the cornstarch and gently toss to combine. One after the other, dip the chicken into the eggs. Then heat vegetable oil in a large saucepan, add chicken and cook for about 1-2 minutes or until golden brown, about 1-2 minutes.
Step 4:
Transfer to a paper towel-lined plate and throw away excess oil. Add the chicken to the prepared baking dish, then top with sweet and sour sauce. Place into the oven and bake until the sauce has thickened, about 55 minutes, turning over every 15 minutes to evenly coat the chicken.
Step 5:
Serve immediately and enjoy!