My father was the only person that would consider a potato meal. He would always make us potatoes when we were kids and we loved it! It was baked in the oven and when it was done, he'd season and butter it. As an adult, I love potatoes, but as a side dish to a meal. It was until I found out about Crispy Crunchy Parmesan Potatoes that I fell in love! It doesn't cost much to make and it's relatively easy.
During the quarantine, I decided to cook my family baked chicken (that was hard to find) with macaroni and rice. I decided to try these out for an even more delicious meal. My kids loved the smell and were curious about what I was cooking. They usually don't eat potatoes, but after they were done, the entire plate was gone within a few minutes. They loved them! My husband was praising how good they taste and wanted more, but we were out of potatoes!
I ate my entire dish and oh boy, the crips and crunchiness made them even better. I barely ate the baked chicken that I had. The kids were begging to have mine, but they were definitely denied! I hope to make more of this, especially with my kid's favorite of meatloaf. Soon, once coronavirus is over, we'll have guests over and I'm thinking of serving them with sour cream and ketchup. Everyone loves these as snacks and wanted the recipe for themselves! Not only do they fill you up quickly, but they have an affordable price!
Print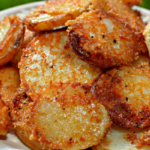 CRISPY CRUNCHY PARMESAN POTATOES
---
4 medium potatoes, scrubbed (not peeled)
4 tablespoons olive oil
¼ teaspoon McCormick's garlic powder, onion powder & pepper
½ teaspoon parsley
Morton salt to taste
4 tablespoons fresh parmesan cheese, divided
---
Instructions
Firstly, preheat the oven to 450 degrees and place a pan with parchment paper.
Slice potatoes 1/4 inch full and stir with olive oil seasoning and two tablespoons of parmesan cheese.
Now, bake an entire single layer for about 25 – 30 minutes (or until browned). Then, flip the potatoes after 10 – 15 minutes.
Once it's cooked, the top with remaining two tablespoons parmesan cheese and bake an extra 5 minutes or until cheese bubbles and browns.