Soft and tender snickerdoodle muffins, with a tangy taste reminiscent of snickerdoodle cookies and a generous cinnamon topping that provides all the comfort in the world. This delicious breakfast muffin pairs well with a hot cup of coffee or a warm glass of milk.
Snickerdoodle muffins are an instant hit with anyone! They've been one of America's favorite muffins for a long time, and are one of my favorites for a very obvious reason.
These cookies in muffin form have sour cream to thank for their moist and fluffy nature. The sour cream also brings about a slightly tangy taste that's reminiscent of snickerdoodle cookies, meaning you get to enjoy the delicious flavor of your favorite cookies at breakfast. These muffins also have a signature coating made with generous amounts of cinnamon and sugar to give you that delightful, comforting flavor that you just can't get enough of.
These muffins just don't have taste going for them, they're also ridiculously easy to make, coming together in less than an hour. These muffins are the perfect comfort bake for everyone in the house at any time of the year. You should be grateful that they're easy to make because there's a high probability that your batch runs over before you get to say, Jack!
This irresistible snack is best served warm, and pairs well with a cup of coffee or a warm glass of milk for your breakfast. Make sure to make a batch today!
Tips:
The baking powder starts to work as soon as the wet and dry ingredients are blended, so it's important to have the oven preheated and pans ready before you combine the two.
If you have any leftovers, you can store them till ready to consume. Allow cooling completely, then freeze in a zip-log bag for up to a month. When ready to use, thaw at room temperature or in the refrigerator or microwave for a few seconds, until warm.
Prep time: 15 minutes
Cook time: 25 minutes
Total: 40 minutes
Yield: 12 muffins (recipe can be adjusted to make more)
Print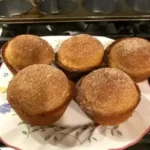 SNICKERDOODLE MUFFINS
---
For the muffin:
½ cup softened unsalted butter
⅔ cup granulated sugar
1 large egg
1½ teaspoons vanilla extract
½ cup milk
¼ cup sour cream
1⅔ cups all-purpose flour
1½ teaspoons baking powder
¼ teaspoon baking soda
½ teaspoon ground cinnamon
½ teaspoon salt
For Topping:
3 tablespoons melted butter
⅓ cup granulated sugar
2 teaspoons ground cinnamon
---
Instructions
The muffin
Step 1:
Preheat the oven to 375 degrees and grease a standard muffin pan generously with non-stick cooking spray then set aside
Step 2:
Add the butter and granulated sugar to a large mixing bowl and cream together for about 2 minutes until the mix is smooth and well combined. Then add egg, vanilla, milk and sour cream and mix until even.
Step 3:
To the butter mix, add flour, baking powder, baking soda, cinnamon and salt. Use a rubber spatula to fold in until it just combines. Ensure not to overmix
Step 4:
Transfer batter with a spoon into the greased muffin pan, filling each tin to about ⅔ its volume. Insert a toothpick in the center of each batter-filled tin
Step 5:
Transfer the muffin pan to the preheated oven and bake for about 25 minutes or until the inserted toothpick comes out clean.
Step 6:
After baking, allow the muffins to cool in the muffin tin for 1-2 minutes, then move to a wire cooling rack.
The Topping:
Step 7:
Melt the butter for the topping in a small container. Meanwhile, mix the granulated sugar and cinnamon together in a different container.
Step 8:
Once the muffins are out of the oven and have cooled for just a few minutes, use a pastry brush to brush a thin layer of melted butter over each muffin.
Step 9:
Generously sprinkle cinnamon-sugar mixture over the butter layer. Serve warm and enjoy
Notes
Nutrition
Calories: 237kcal | Carbohydrates: 31g | Protein: 3g | Fat: 11g | Saturated Fat: 6g | Cholesterol: 42mg | Sodium: 157mg | Potassium: 93mg | Sugar: 17g | Vitamin A: 360 IU | Calcium: 49mg