There's something magical about cooking outdoors, especially when it involves a simple yet flavorful meal like Hobo Foil Packets. These convenient and customizable packets are perfect for camping trips or backyard cookouts. They allow you to combine your favorite ingredients and cook them to perfection, all in a neat little package. Get ready to savor the delicious flavors and enjoy the great outdoors with this easy recipe!
FAQ – Frequently Asked Questions:
Q: Can I make these foil packets ahead of time?
A: Absolutely! You can prepare the foil packets in advance, making sure to tightly seal them. Keep them refrigerated until you're ready to cook. Just note that the cooking time may be slightly longer for chilled packets.
Q: Can I use different proteins instead of ground beef or turkey?
A: Yes! Feel free to customize your foil packets by using chicken, sausage, or even seafood like shrimp. Adjust the cooking time accordingly depending on the protein you choose.
Q: Can I add other vegetables to the packets?
A: Absolutely! This recipe serves as a great base, and you can add or swap vegetables based on your preferences. Consider adding mushrooms, corn, asparagus, or any other vegetable you enjoy.
Q: Can I cook these packets in the oven instead of on a grill or campfire?
A: Definitely! If you prefer to cook indoors, preheat your oven to 400°F (200°C). Place the foil packets on a baking sheet and bake for approximately 25-30 minutes or until the meat is cooked through and the vegetables are tender.
Q: Can I make vegetarian foil packets?
A: Absolutely! To make vegetarian foil packets, simply omit the meat and add more vegetables or plant-based proteins like tofu or chickpeas. You can also season with your favorite herbs and spices for added flavor.
Print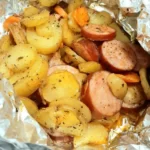 HOBO FOIL PACKETS
---
Description
If you are looking for an awesome recipe to cook for today, then, you have got to give this one a try! Oh, man, you will not be disappointed with these Hobo Foil Packets at all! You can cook them in several ways. I have listed them all so check them out. Have a blessed day, friends.
---
1 pkg (14 oz; 392g) smoked beef and pork sausage, cut into coins
3 c (435g) thinly sliced Yukon gold potatoes
2 c (3-4 large; 221g) thinly sliced carrots
1 large (223g) thinly sliced yellow onion
2 tbsp olive oil
1 tsp of Italian seasoning, dried basil, dried parsley
1/2 tsp garlic powder
1 tsp paprika
1/4 tsp dried thyme
4 tbsp unsalted butter, separated
Serve with: ketchup, fresh herbs (optional)
---
Instructions
Step 1: Prepare the oven and preheat to 200 degrees C or 400 degrees F.
Step 2: Slice the sausage into round shapes.
Step 3: Slice the potatoes to about 1/8-inch-thick cuts.
Step 4: Slice the onions as well into thin cuts.
Step 5: In a large mixing bowl, add the carrots, sausage, onion, and potatoes.
Step 6: Drizzle about 2 tablespoons of olive oil over the veggies, then sprinkle seasonings as well. Toss until well mixed.
Step 7: Fill four sheets of foil with the mixture.
Step 8: Add four slices of butter to each foil. Seal each foil tightly.
Step 9: Place them inside the preheated oven and cook for about 30 minutes or until done.
Step 10: Open each pack and garnish them with freshly chopped herbs.
Step 11: Serve and enjoy!
Notes
Cook on the Grill:
Prepare the grill and preheat.
Place the packets over the preheated grill and cook for about 30 minutes or until the insides are fork-tender.
Serve and enjoy!
Cook on the Stove:
Place a Dutch oven on the stove, then add everything. Turn the heat to medium-high.
Cook for 15 minutes or until done.
Serve and enjoy!
Nutrition Facts:
Serving: 4 servings, Calories: 530kcal | Carbohydrates: 27.6g | Protein: 12.4g | Fat:42.3g | Cholesterol: 91.8mg | Sodium: 659.4mg | Fiber: 5.3g | Sugar: 6g