Walking Taco Casserole is a fantastic recipe loaded with Mexican favorites and served with Doritos, Fritos, or Tortilla Chips on top. This recipe is hassle-free to make, and the result is a delicious crispy delight that you'll always crave.
Walking tacos is a popular home-style dish in the Southwest. This recipe is the best, with Frito chips, ground beef, and shredded cheese layered in the taco dish and topped with lettuce, tomatoes, and olives. It's a dish with all the flavor of a taco salad. It feeds the entire family, and you'll even have lots of leftovers.
It takes only 1 hour to prepare and is ideal for any weekday meal. It's also good for breakfast or lunch the next day if you cook it ahead of time.
This casserole is also simple to freeze. So, when you know you'll be too busy to cook or want to give a meal to a friend, this is a great option.
Prep time: 15 minutes
Cook time: 30 minutes
Total time: 45 minutes
Yield: 6 servings
Print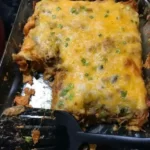 WALKING TACO CASSEROLE
---
1 ½ lb. Ground beef
1 cup Onion chopped
3 oz. Cream cheese
1 Packet taco seasoning
1 Can green chilis
2–3 Cup Fritos corn chips
1 Cup Shredded taco blend cheese
1 Roma tomato chopped
1–2 Cup Shredded lettuce
Salsa and sour cream for garnish
---
Instructions
Step 1:Preheat oven to 350 degrees Fahrenheit.
Step 2:In an oven-safe skillet, brown the ground beef and onion over medium-high heat. Cook, occasionally stirring, until the meat turned browned and the onions are softened.
Step 3:In a large skillet, combine the taco seasoning, green chilis, and cream cheese, and cook until the cream cheese is completely melted and blended.
Step 4:Corn chips are placed on the mixture, followed by shredded cheese. Preheat oven to 350°F and bake for about 20 minutes.
Step 5:Remove the pan from the oven and top with tomato and shredded lettuce. If desired, top with salsa and sour cream.
Notes
Nutrition Information:
Per Serving:
Calories: 1705
Total Fat: 105g
Cholesterol: 130mg
Sodium: 1924mg
Carbohydrates: 145g