Super delish and super easy to prepare no-bake cookies that feel like sunshine in your mouth
If you've ever had peanut butter cookies, then you'll know that there's not a lot of treats out there to fix a thirsty sweet tooth. These cookies evoke feelings of nostalgia, reminding me of peanut butter fudge.
My grandma had a fantastic recipe for peanut butter cookies, she shared this recipe with me, and now I'm sharing it with you (I should really learn to keep secrets). This recipe is super easy and creates a large batch of super tasty cookies, making it suitable for exchanging cookies. But, believe me, your cookies won't last long, so you'll need to keep making more.
This recipe requires just a handful of ingredients, all of which are common in the pantry. It also doesn't take much time to prepare, coming together in about 45 minutes. However, don't be fooled by the simplicity of this recipe – its taste is indescribably delicious, its flavor is so arousing that your neighbors will be coming around to see what you're making. The combination of corn syrup and peanut butter is the secret to this recipe, you can adjust them how you see fit to get more flavor into this delight
Tips and Variations:
You could use a different cereal, like Rice Krispies, in place of cornflakes. Just be sure that whatever cereal you use would yield a favorable cookie.
Recipe Details:
Prep time: 10 mins; Cook time: 5 mins; Cookies ready in 45 mins
Serving quantity: per cookie; Serving size; 25 cookies
Print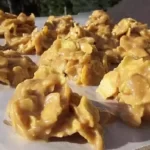 GRAMA'S CORNFLAKE PEANUT BUTTER COOKIES
---
½ cup white sugar
½ cup light corn syrup
2 tablespoon butter
½ cup peanut butter
3 cups cornflakes cereal
---
Instructions
Corn flakes peanut butter cookie is very easy to make in a few easy steps:
1. Line a baking sheet with waxed paper.
2. Pour sugar and corn syrup in a saucepan and bring them to boil over medium heat.
3. Add butter and peanut butter to the boiling sugar-corn syrup mix, and stir properly until everything is thoroughly mixed. Then remove from heat
4. Place corn flakes into a large bowl and then pour the mixture from step 3 over the cereal. Mix gently until the corn flakes are entirely coated with the mixture.
5. Drop coated cornflakes onto the waxed paper and allow to cool before serving.
Notes
Nutrition Facts:
Per Serving:
Energy: 85 cal; Protein: 1.5g; Carbohydrates: 13g; Fat: 3.5g; Cholesterol: 2.4mg; Sodium: 58.6mg.