Fried cabbage with bacon and onions is a sweet, salty, buttery, hearty, and delicious recipe. This meal is colourful, flavourful and insanely delicious. A real hit with any family and away to endear your kids to your cooking.
This is by far my favorite cabbage and bacon recipe – it's very simple, straightforward, and tasty in just one pan, and it's one of the most wonderful dishes you can cook to celebrate St. Patrick's Day!
If you like cabbage and bacon (and who doesn't? ), this is a meal you'll want to make again and again.
This pan fried cabbage with bacon is likely to become your new favorite quick side dish! It's slightly sweet, slightly salty, buttery rich, and overflowing with crispy bacon!
This low-carb cabbage meal is ideal for keto, low-carb, paleo, and gluten-free diets.
From the first mouthful, this dish will become an immediate favorite. You've got soft cabbage that's been perfectly seasoned with garlic, onions, and salty bacon. Serve this meal to your visitors any day of the week and it will vanish in a flash.
This fried cabbage and bacon is just wonderful; it just works so well!
Tips:
•You can store leftovers in the refrigerator for up to four days in an airtight container.
Print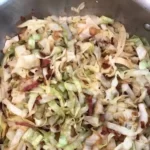 FRIED CABBAGE WITH BACON ONION AND GARLIC
---
4 strips thick cut bacon, diced
3 tbsp. butter
1 onion, diced
6 cloves garlic, diced
1 head cabbage, diced
1 tsp. Celtic sea salt
---
Instructions
Step 1:Cut the bacon into thick chunks, and fry until it is crunchy. Then set aside. In large pan, heat butter on medium-high heat until it is melted. Then add the diced onions to pan, then cook for about 4 minutes or until it is soft and transparent, stir together.
Step 2:Add garlic to pan, and allow to cook for about 3 minutes or until fragrant and soft. Also add cabbage to pan and stir well to coat in butter, then season with salt.
Step 3:Reduce the cabbage by half by cooking for about 10 minutes, while you stir seldomly as it cooks evenly, then add bacon back to the pan.
Step 4:When cabbage gets shiny and translucent with browned bits, then it is ready to serve. Serve immediately and enjoy!
Notes
Prep time: 15 minutes
Yield: 6 servings
Nutritional facts:
Calories: 148Kcl Total fat: 9g Cholesterol: 23mg Sodium: 586mg Fiber: 49g